7 Marketing Ideas for Growing Your Small Business in 2022
Starting a new business is no easy task and requires a lot of time and effort. You need to perfect your offering, select the right sales channels, research your target customers, and more.
However, no matter how good your product or service is, people won't know about your business unless you market it. Marketing is an essential part of establishing your brand and generating sales leads for your small business. In this post, we will discuss some of the best marketing techniques that will help you grow your small business both in size and reputation.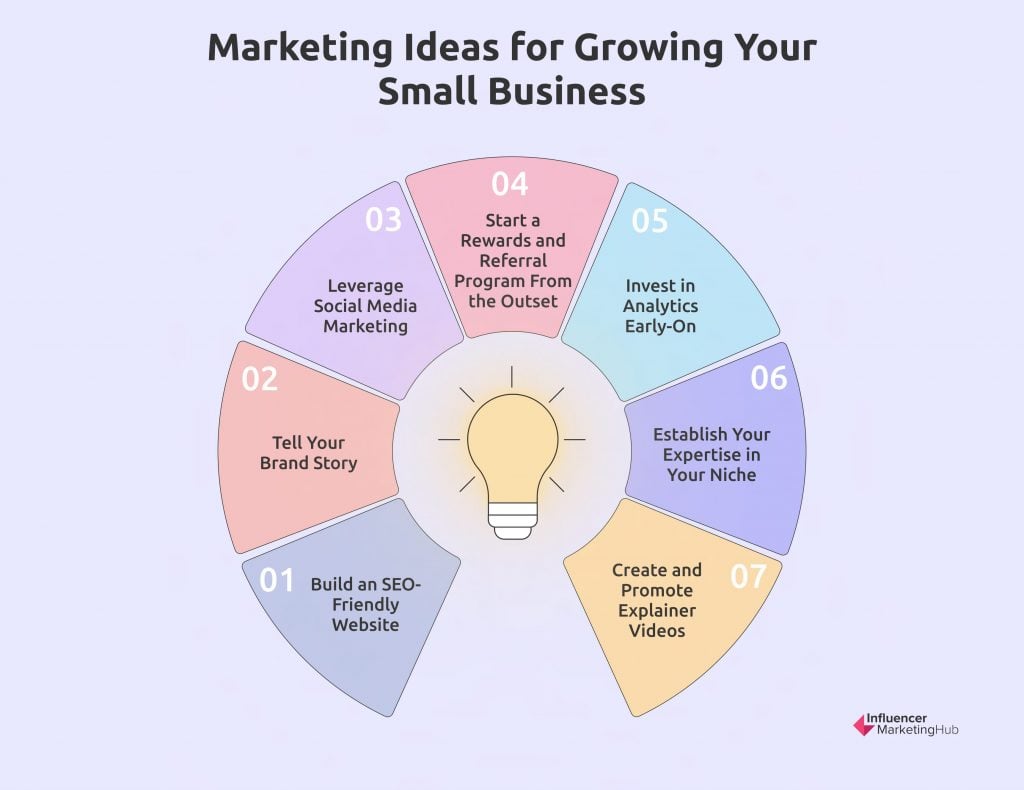 7 Marketing Ideas for Growing Your Small Business in 2022:
9 Local Promotions to Try
1. Hold a Contest
As an example, according to The Oklahoman, a local pizza joint in Oklahoma decided to host a home film festival contest where participants are asked to write a script and film themselves performing (while featuring some form of the brand – a cup with their logo, a Hideaway pizza box, a branded t-shirt, etc. in the final video).
Once a winner has been decided, you can add their winning photo, video, or social post to your website, adding another layer of engagement and allowing you to get the most mileage out of the content.
2. Enable Customers to Support the Community
However, an idea for a local restaurant offering take-out would be to include an option for the customer to purchase an additional meal for hospital staff. In that way, your eatery is generating more business and providing consumers the opportunity to help out as well.
In a video from CBS, local volunteers pool together donations in order to "feed the frontline." Businesses can follow suit by offering a discount for anyone who purchases extra meals for people in need.
3. Use Incentives to Drive Email Subscribers
Even if you aren't open for business at the moment, you should consider building your email list so that you can communicate with your audience and incentivize them to make a purchase once you do re-open.
If you are unable to keep your doors open, you could offer website visitors a discount that they can use once you re-open if they sign up to receive email communications from your store or restaurant.
Continuing to engage potential customers via email and/or SMS texting will help keep your business front of mind for when you do return to business as usual. Just make sure you only share highly relevant content that will truly provide value to your audience if you want people to stay subscribed.
4. Shift Your Business Model to Accommodate Local Customers
The same concept could work for any sort of business where the service is usually performed on-site at the store location. It's times like these where creativity, flexibility, and out-of-the-box thinking comes in handy.
5. Create a Local Guide and Promote it on Social Media
If you have a brand related to fitness, health, sports, or being active in general, you could create a series of guides about hiking – where to hike with dogs, where to hike with kids, where to hike alone, what to listen to while you hike – and then promote them on social media.
Aligning your brand with a positive activity like hiking and providing something useful to your audience is a win-win for staying relevant, building followings, being an active part of the community, and keeping your audience engaged.
6. Submit Your Open Business to Local Directories
If you are located in the Bay and want to raise awareness for your local brand, you can register at Open For Business – a new directory housed on one of the top news and lifestyle sites in the Bay Area, SFGATE.
Here , businesses serving the Bay Area can claim their listing and ensure that residents can find and support them. And, on top of the standard free listing, companies can choose to sponsor their listing or sign up to be a featured brand for extended reach and benefits.
Right now, people are confused about who is offering delivery versus take-out, what current hours are during the crisis, what delivery apps are available for which locations, and which businesses are open in general.
Making sure that the resources in your local community – the newspaper, Chamber of Commerce (here's an example from Oakland), and other online websites geared towards helping consumers find this information – know that you are still open for business and offering take-out from a special menu is crucial if you want people to order from you.
7. Invest in Your Online Presence
We mentioned this in a previous article about why B2B brands are investing in digital, but the same holds true for companies who now need to rely on their web presence in order to keep generating sales while storefronts remain closed.
Make sure your Google My Business listing is optimized. Respond to all of the reviews to show that you care about your customers and update your information to include any changes that have occurred as a result of the coronavirus outbreak.
5. Optimize for local SEO
Still looking for local marketing ideas? Local SEO should be part of your business development plan. People, after all, are using the internet more and more to find products or services. When they do that, you want to be at the top of search engine results pages.
Optimize your business profile on Google. You'd need a Google My Business Account for this. Make sure you give all the necessary information.
Add location-based keywords to your main website pages' names, headings, and body (Example: "Sacramento bakery"). Use Google Keywords to determine the most searched keywords in your area and the relevant ones. Include those in your site's meta content and URL, among others, too.
Obtain listings in other online repositories, guaranteeing that the information is consistent across all platforms.
Create blog posts that are unique to the communities you represent. Make sure they are great content, too. Use email templates for outreach to secure links to these blog posts then and get the content ranking.
Additionally, get your business listed on Reserve with Google. This will help you monetize the leads you get from your business's Google profile by prompting them to book an appointment with you directly. You need to have an account with a partner scheduling software to be eligible for the same.
Sources:
https://influencermarketinghub.com/marketing-ideas-small-business/
https://marketing.sfgate.com/blog/local-marketing-ideas-for-small-business
https://blog.appointy.com/2021/05/17/5-local-marketing-ideas-for-small-business-owners/