The 5 Best B2B Social Media Campaigns
In the B2B social media environment, collecting followers and likes is not enough to be successful. Modern marketers hunger for CTR, form fills and lead-generating data in order to better-know their customers and build a rapport with them. In this blog, we take a look at five best B2B social media campaigns and the reasons why we love them.
Well known within the shipping, energy and maritime technology industries, Maersk seemed like an unlikely candidate to launch a social media campaign. Despite being an industry leader, the company were considered to be conservative and reserved, and needed to refresh their image in order to attract new talent.
With approximately 25,000 employees working for the company, Social Media Manager Jonathan Wichmann firstly decided to build a strong internal audience, in turn asking them to invite friends and prospective employees to follow their channels, creating additional virality. A year after the campaign was launched, Maersk Line had gained over 700,000 Facebook fans, and over 172,000 unique interactions each month across 12 social media channels.
Maersk used social media as an outlet to succeed in their goal by creating a clear and concise message about what they do. Asking their audience about what type of content they would like to see posted, posting regular blog articles and stories from the industry, along with a photo competition all contributed towards customer engagement. 67% of visitors to the company's social media channels clicked through to recruitment pages, and the amount of applicants for employment increased by 116%.
Wichmann was particularly clear that social media would not be used as a selling tool, but rather to establish thought leadership by leveraging employee expertise to create value for customers. Today we can see followers answering each other's customer service issues before an administrator for the company has to get involved – a great example of the way in which social media can create and maintain a positive relationship between brand and customer.
Tippex
Despite literally obscuring the lines between being a B2B and B2C campaign, TippEx's 'Hunter Shoots a Bear' viral is a noteworthy mention of how social media can catapult a brand into the limelight within just one day.
The video, launched on YouTube, sees a hunter in the forest confronted by a bear that he is supposed to shoot. His sense of humanity takes over however, and he reaches out of the on-screen action to grab a seemingly static TippEx Pocket Mouse from a neighbouring advertisement. The word 'shoots' is erased and he instructs the viewer to replace it with whatever text they want – the suggested scenario then being played out before them. After much data analysis of search behaviour, terms and content on YouTube, TippEx experienced global virality from day one: one Tweet per second in the first 10 hours, and one million views after 36 hours. In addition, brand positioning increased by 100% and sales were up by 30% compared to the same time the previous year.
Following the success of this campaign which received more than 50 million views on YouTube, a further campaign 'Hunter and Bear's 2012 Birthday Party' was launched, in which viewers 'white and rewrite history'. The second episode in the series enjoyed much of the same success as the first, a true testament to the dramatic effects of interactive marketing on a platform that currently reaches almost 25% of the world's population.
10 types of marketing campaign
A brand awareness campaign to promote your company
A campaign to launch a product/service/offer to promote your new product/service/offer
A repositioning campaign after a website redesign or change of name or logo.
A lead generation campaign to add new contacts
An email marketing campaign to offer content, a new product, or another interesting resource to leads
A social media campaign to drive traffic to your website or improve brand awareness
An influencer campaign to reach a larger audience
A public relations campaign to work with media well-known to your target audience
An SEO or organic search campaign to rank better in search engine results
A referral campaign to invite customers to promote your company using word-of-mouth
In parallel to these, you should also run campaigns throughout the year to promote things like new content which could include your newsletter, for example. That's because the creation of new content on the different pages of your website is an ongoing process.
How to create a successful marketing campaign in 7 steps
At Plezi, our year is structured around the different marketing campaigns we run. Because of this, we now have a marketing campaign plan that we can replicate. This helps us to be better organized and ensure that each campaign achieves the best results possible. Below are the different steps we use to create our marketing campaigns.
1. Have a good understanding of your buyer personas
We tend to harp on about it, but knowing your target audience, the problems they face, their fears, obstacles, and daily routine is the foundation of all marketing. Defining good marketing buyer personas is absolutely vital for your marketing strategy to work.
If you want your marketing campaign to be truly effective, you need to have a very good understanding of the audience you are targeting. This will ensure that the message resonates with them and will convince them to take action. For example, this will enable you to choose the right channels, use language appropriate for your target audience and their position in the buyer's journey, and ensure that the campaign offer addresses their needs.
2. Organize a kick-off meeting
Whatever the size of your team and the duration of your intended campaign, it's a good idea to organise an initial meeting to kick-off the process of creating your campaign. This will ensure that it is well-organized and that everyone is on the same page.
Pro tip: We all know that meetings can sometimes go off in all directions. To make more effective use of your time and be sure that all the necessary points are addressed, you can put in place a campaign roadmap. This can include things like the key stages of the campaign, the different roles of those involved, and deadlines.
Spend whatever time you need, because this meeting is essential to the success of your marketing campaign. It has a number of goals, which will be covered in the following steps. But it's better to spend time at this meeting making sure the campaign is well designed and that it will run smoothly than to rush things, only to realize later on that you haven't given sufficient thought to some parts of the campaign.
3. Appoint a campaign manager
The marketing campaign manager is like the conductor of an orchestra who runs the campaign. They must ensure that no steps have been forgotten so that the campaign runs smoothly.
4. Set clear goals
Setting clear goals will ensure that everyone involved in the campaign is aligned and that they remain focused for the duration of the campaign. This will help you decide what actions to take and avoid taking those actions which are unnecessary. This is the most important step because without it, you won't be able to measure how effective a campaign was once it is finished.
5. Identify a target audience
Once you've set these goals, you need to decide on who the campaign will target in order to achieve them. If a campaign is to be effective, the message must be clear and tailored to a specific target audience. Again, you shouldn't be targeting all of the contacts in your database.
6. Choose the channels
In today's business environment, it's better to take an omnichannel approach to lead generation. This makes it possible to multiply the touchpoints between internet users and your business. If you aren't present on the preferred channel of one of your potential customers, they'll most likely choose one of your competitors. That's because they've made the effort to multiply touchpoints with leads and adapted their message to each stage of the buyer's journey.
What is POEM?
POEM is an acronym that stands for Paid, Owned, and Earned Media. It refers to different types of media that a company can use to communicate with its leads and customers. While these three forms of communication are quite different, they can also complement each other. They enable companies to optimize their communication with consumers.
7. Choose KPIs
The last step in our plan involves launching your campaign. Once you've done so, you need to measure its impact using key performance indicators (KPIs) which will tell you exactly how well your marketing campaign has performed. When you launch your campaign, you should assess how it is received by your target audience and be prepared to make changes to make it more successful.
PathFactory's GDPR Wars
When all else fails, leverage the power of a cultural phenomenon to transform a seemingly-dull topic into something that's highly engaging. At least, that's the lesson that can be taken from PathFactory's GDPR Wars campaign:
Released in support of the company's rebrand from LookBookHQ, the GDPR Wars campaign added a fun twist to the personal data privacy and protection regulations implemented by the European Union in May 2018.
As B2B News Network editor-in-chief Shane Schick notes, "There haven't been too many campaigns in recent memory that would make marketers feel as powerful as a Jedi knight; this one did it not with a lightsaber, but with a professional approach to opt-ins."
Refract's "Can You Coach a 10yr Old To Cold Call?" Video Campaign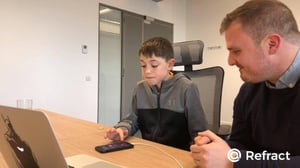 Refract's Marketing Manager Matt Hayman explains: "Standing out from the crowd presents significant challenges for B2B marketers. The risk is that in an attempt to grab attention the subtext of the content is ignored. Our initial goal with the campaign was undoubtedly to capture attention — many salespeople hate cold calling, and seeing a kid attempt it with no fear resonated powerfully. But the film, and subsequent podcast, also subtly demonstrated how a salesperson can easily surface insights from their sales activity with the Refract platform, a core part of the value prop of Refract."
Sources:
https://www.ledgerbennett.com/insights/the-5-best-b2b-social-media-campaigns/
https://www.plezi.co/en/marketing-campaign/
https://www.newbreedrevenue.com/blog/b2b-marketing-campaigns