How to Plan an Actionable Content Marketing Strategy Right Now [Template]
The only problem? You're doing all of that on autopilot. You don't have a content strategy that tells your entire team what to do. That's why you're here: searching for a way to put your content activity into a streamlined strategy.
Does the Debate About Definitions Matter?
This isn't without reason. The phrase "content strategy" has its roots in the web design world, referring to the practice of planning content for websites. Certainly, this is a different discipline from content marketing.
However, in common usage, it seems as though marketers typically use these terms interchangeably. There is no way to force people to use the "correct" definition for either. If you're strategizing the content you'll create, then isn't "content strategy" technically correct?
It's our opinion that it's too confusing to expect people to keep these definitions straight. And honestly definitions matter much less than doing useful work. That's where we think our readers should focus their attention, instead of stressing over tedious definitions no one can enforce.
Step #2: Research Your Audience for Your Content Strategy
This can be done by enabling Google Demographics and Interests for the types of sites prospects engage with and Google Analytics for the content they engage with, as well as by calculating which social media platforms your users will be on from their demographics.
Understanding what content works best and where can also be useful in the long run. Facebook has made it increasingly difficult for small business owners to increase their reach without paid adverts. However, video content seems to thrive on the platform, with video content "generating 1200% more shares than text and image-based content combined."
Understanding your audience, and how they act will help you narrow down your content strategy, without feeling like you need to have eggs in hundreds of baskets. Content creation on social media works well for B2C businesses, but not so much for B2B businesses.
Key Performance Indicators (KPIs)
What variables will you look at to indicate the success of your content? Identify these indicators of your success in this section. This will vary depending on your product and service as well as the goals you're trying to reach. If you're in eCommerce, you'll likely want to measure how much revenue you generate as a result of your content creation. If you're a SaaS product, you might be more interested in gaining new users.
Who are the people you want to read your content? Understanding your audience and what they care about will assist you in creating relevant content. What kind of information are they looking for? What difficulties are they attempting to solve? These questions should be addressed explicitly in your content strategy. Create personas that reflect different sectors of your audience and compare and contrast them using the persona comparison template. These personalities not only inform your content choices, but also the tone of your material.
Keywords
Ensure that your content resonates with your personas by defining keywords of topics that your audience cares about. This will guide the type of content that you create. Think of a dozen or so. By using the right keywords in your content, it will improve SEO and searchability of your content.
What kind of content does your audience consume? Again think, about your personas and their pain points. At that very moment, what type of content would they be searching for? If you're selling a beauty product and your target audience is girls aged 14 to 21, you might want to produce video tutorials because they're likely searching on YouTube for tips. Or maybe you're trying to attract business professionals who prefer reading case studies in eBook formats.
The 5 Elements of a Powerful Content Marketing Strategy
An effective Content Marketing strategy should have these five core elements to be successful: audience personas, brand positioning, owned media value proposition, business case, and an action plan. Let's see why these elements are essential and how you can start implementing each of them.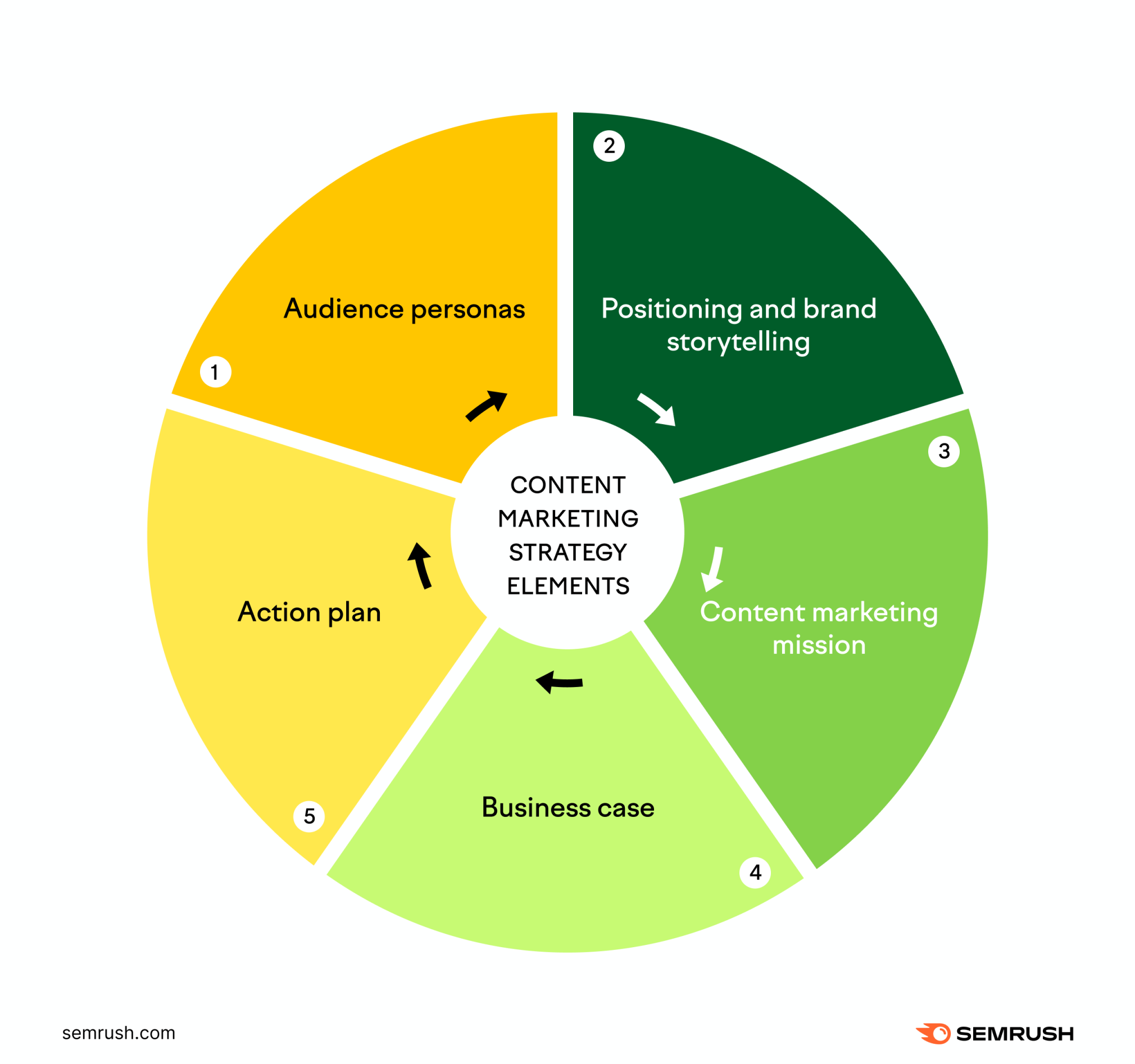 1. Audience Personas
You can't really tell the story of your brand if you don't know who you are telling your story to. That's why your first step will be to identify the audience you are attempting to target with your content. There are multiple ways to do this:
Once you have your audience in mind, you can use our free Personas tool to put them into writing. You'll want to be able to clearly and succinctly communicate who your audience is to all stakeholders and anyone involved in brand messaging. Start by exploring these persona examples for your inspiration.
2. Positioning Your Brand and Story
Use this information to shape the main pillars of your brand story. A brand story is a summary of your company's history, mission, purpose, and values. It can help you choose the right direction in your content marketing strategy, identifying to right messages and topics to translate with your content.
3. Content Marketing Mission Statement and Owned Media Value Proposition
To establish your brand as a credible content publisher, define your owned media value proposition. It'll help you find a differentiation point in your content strategy and compete more effectively. To do so, answer the following questions:
4. Business Case and Content Marketing Goals
Identify business goals your company needs to achieve and figure out how content marketing will bring your company closer to those goals. How many resources do you need to invest in your content strategy and what results do you want to generate?
5. Action Plan
Finally, you will list out your main content marketing campaigns and projects on deck for the year and add them to your content plan. Think about how they will achieve the content marketing goals you've previously set for your business.
To decide on your optimal content formats and channels, you'll need to look at your historical content performance and further analyze your audience, which we'll discuss later. If you need inspiration, check out our 2022 list of the most remarkable content marketing examples.
7 Steps to Creating a Complete Content Strategy
Long-term planning allows you to anticipate challenges and allocate resources effectively. Laying out these seven steps will help you develop and implement a content strategy aligned with your marketing and business goals.
As mentioned earlier, you must document your plan. This could be a slide deck, a Google document, a spreadsheet, or another format that works well for your business model and can be easily shared with all essential stakeholders.
Step 1: Determine Your Audience and the Story You Want to Tell with Your Content
While your buyer personas will form the base for your content strategy, your audience isn't solely made up of buyers. Audiences include people who begin interacting with your brand long before they intend to make a purchase.
Besides, becoming a valuable source of information can help you build a community of brand advocates who will spread the word and strengthen your thought leadership. We sometimes call these people "reader personas", highlighting that it's all about delivering value to your audiences vs. pushing your products or services.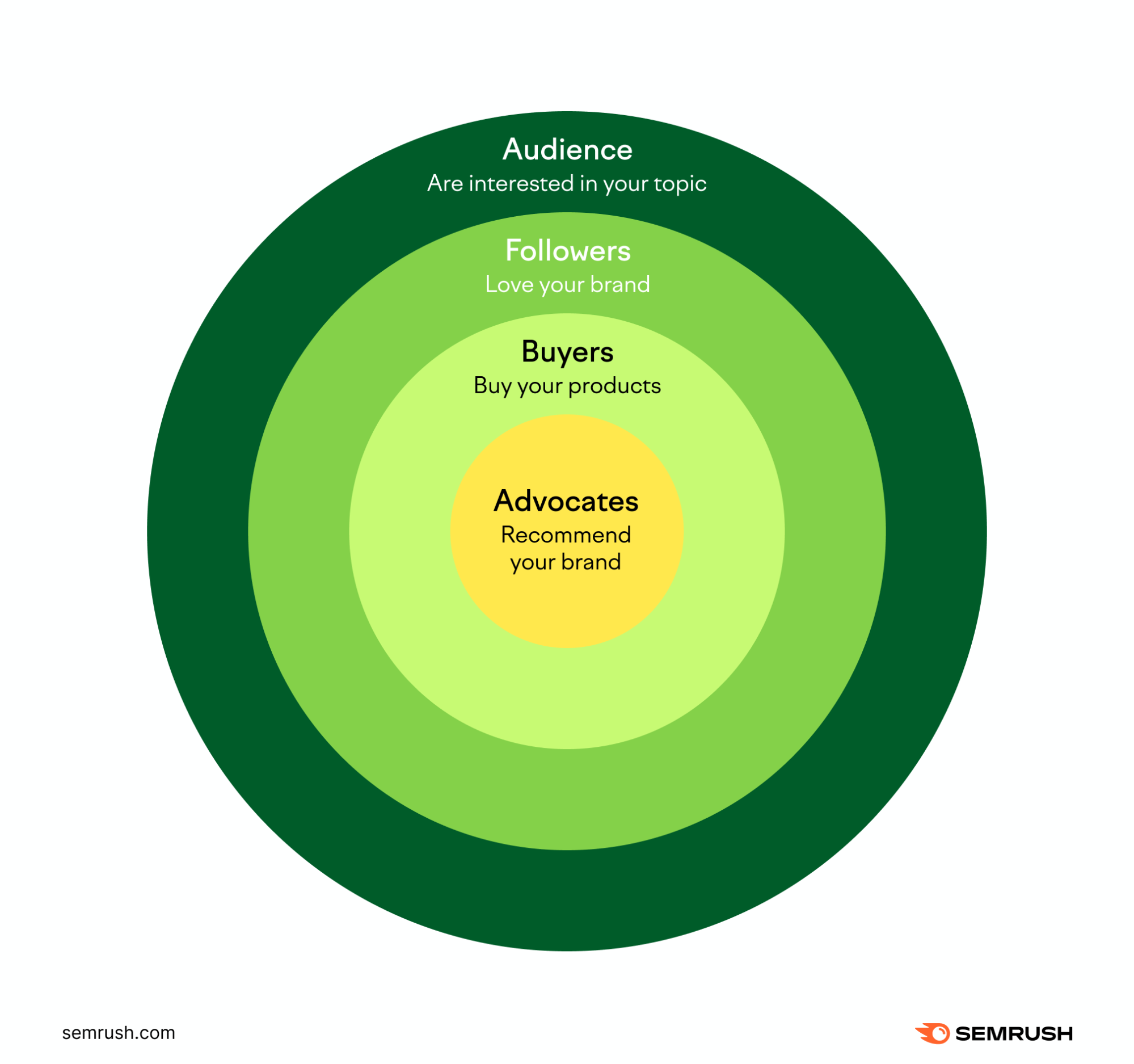 Red Bull is an excellent example of a brand that creates content for audiences, not buyers. Red Bull's owned media doesn't focus on its product; it covers topics the audience is interested in, like extreme sports and once-in-a-lifetime experiences. You can easily identify the target audience—young and adventurous people, passionate about sport and an active lifestyle.
Red Bull showcases the importance of integrating your brand story into every content piece and every message sent to your audience. Remember about your mission, where you stand, and why you are sharing content in the first place. Creating this unique voice and character can help you stand out in the age of "content shock."
The Empathy Map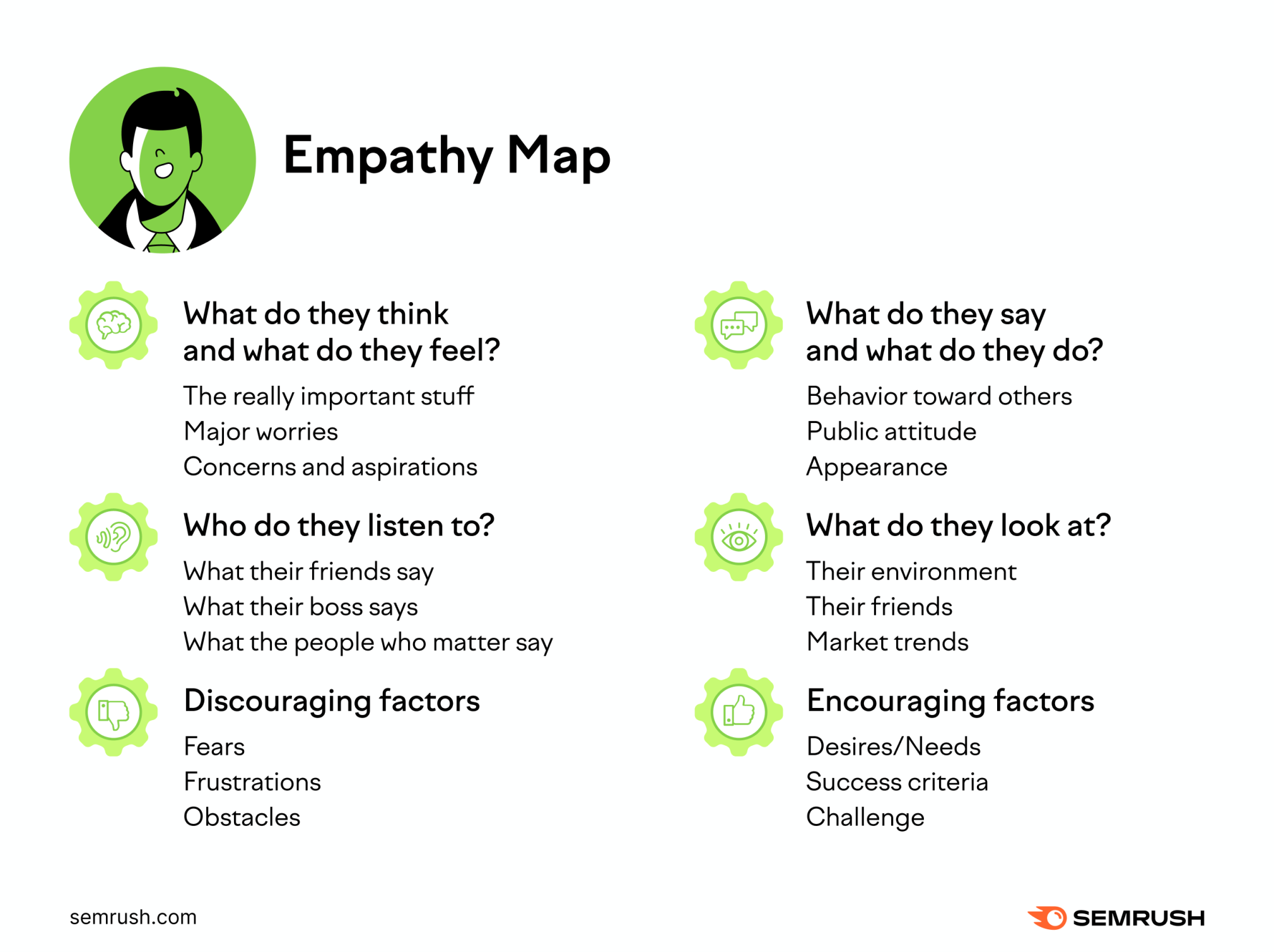 The "Jobs to Be Done" Framework
For example: When I work, I spend too much time completing all my tasks, that's why I want to find a tool to improve my time management, so I can spend more time with my family.
Once you have an understanding of the prospect's current problem, the solution they need, and the result they envision, you can create compelling content that can transform them from newcomers into your brand advocates.
Step 2: Analyze Historical Content Performance and Establish Your Content Marketing Goals
Such metrics might be primary: e.g., revenue generated by content marketing or organic traffic and the number of leads. Others might be secondary: e.g., organic traffic, ranking, and shares.
Remember that we all live in a world of limited resources. Your goals and plans are closely tied to the available budget and capacity of your team. So, make sure to take this into account when setting your targets.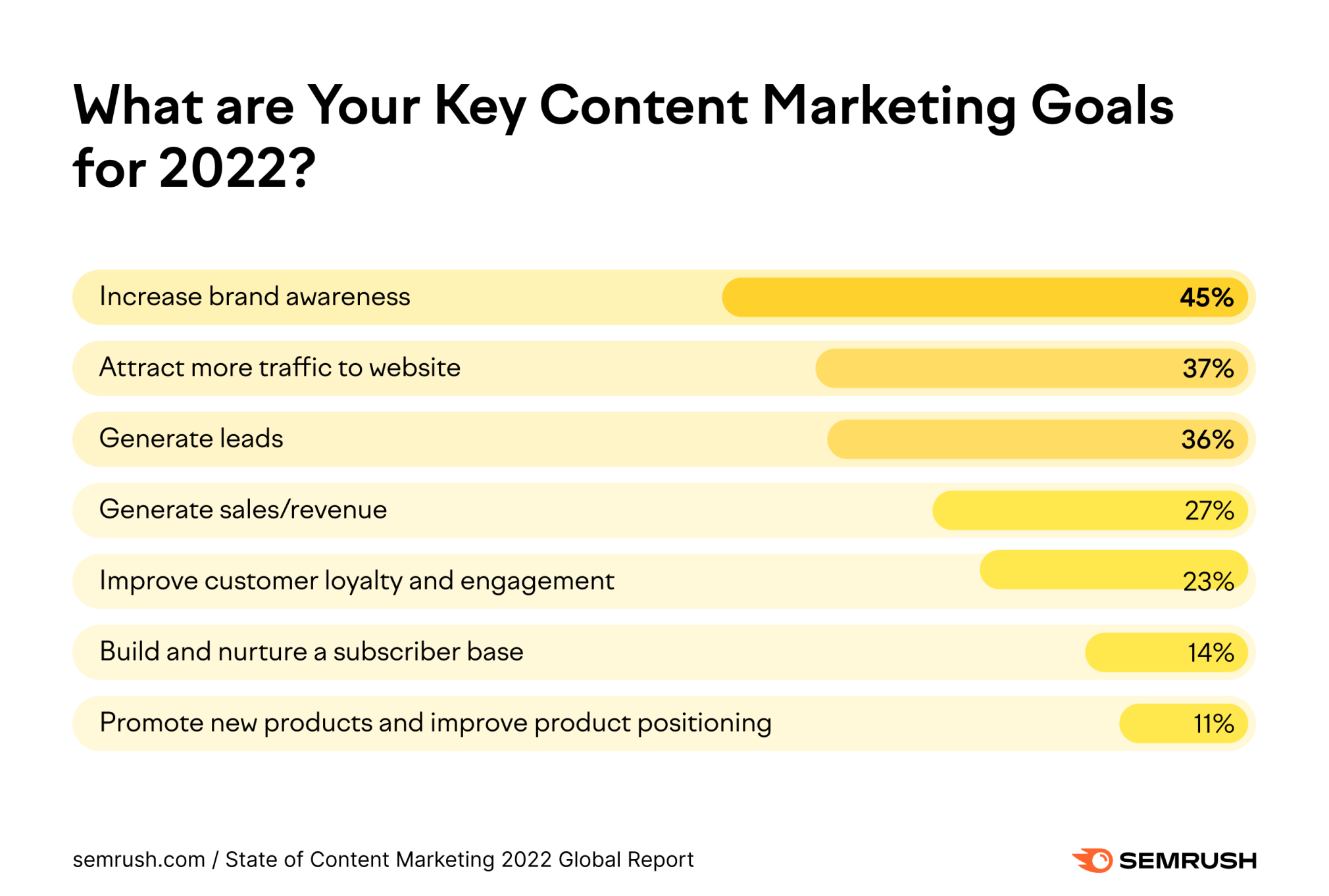 But we encourage you to always look at the bigger picture and see content marketing as an integral part of your overall marketing strategy. An example of an overarching goal could be: "In 2022, we want to achieve a 20% increase in revenue created by organic content and generate 15,000 MQLs with a budget of $30,000."
Pro tip: Take the buyer's journey into account when setting your content strategy goals. For example, in B2B, the sales cycle tends to be much longer than in B2C. So, multitouch attribution would be more optimal when analyzing your content performance and defining your KPIs (key performance indicators).
Goal-Setting Frameworks
Let's look at some progressive goal-setting frameworks that can help you at this step. While you may be more comfortable with traditional goal-setting frameworks like SMART (Specific, Measurable, Achievable, Relevant, and Time-Bound) goals, flexibility is key to setting realistic benchmarks. Consider using the framework CLEAR, which can help you become more agile in a fast-changing environment.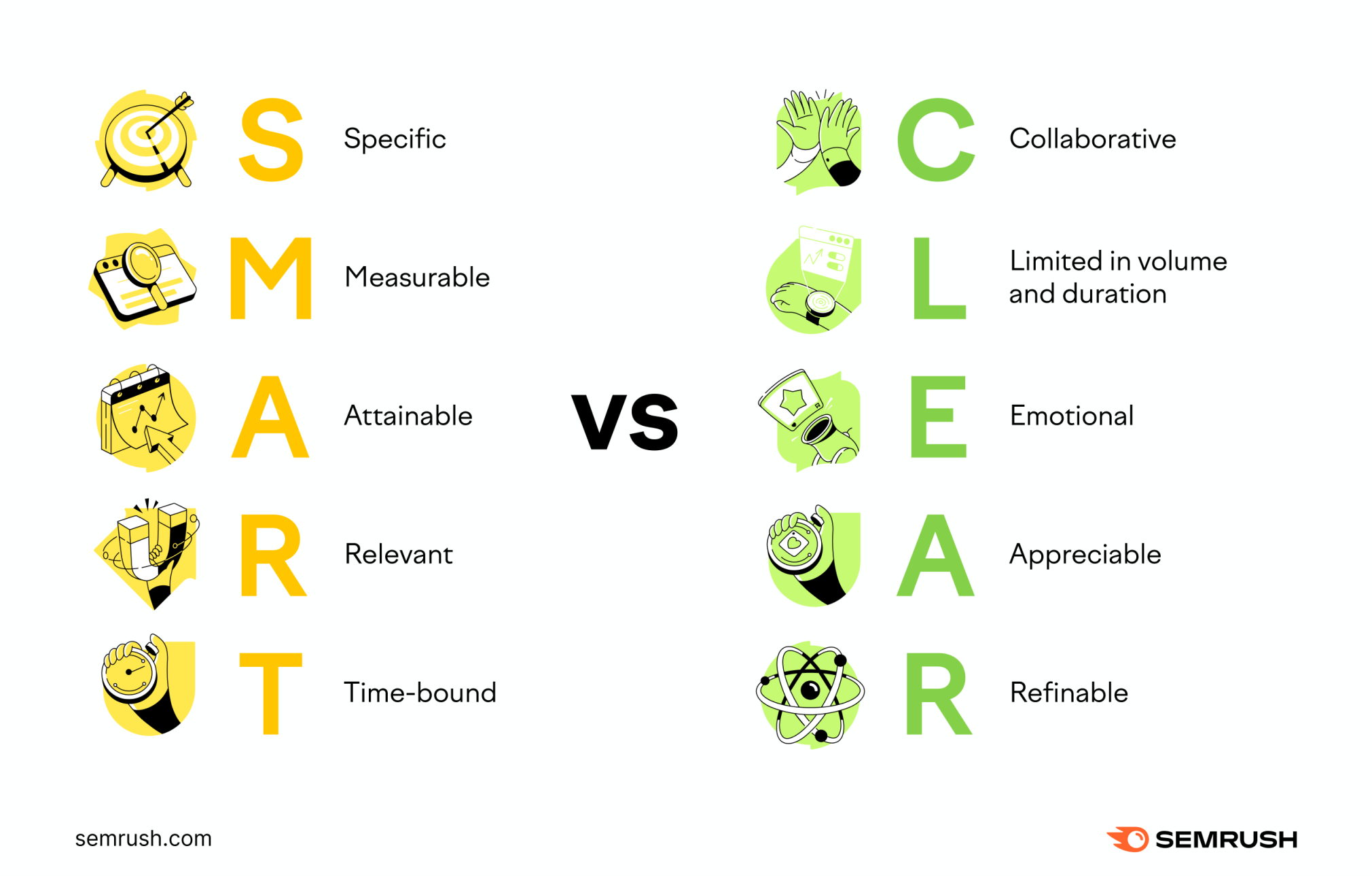 With this approach, you can target an ambitious result, but set a minimum threshold for reaching the goal. Progress indicators (0–100%) allow each team member to see how attainable each goal is and understand what remains to be accomplished.
Offsite Content
Offsite content is merely any content that is not on your site. It's your brochures, email newsletters, mailing envelopes. Amazon even uses their packaging tape as a spot to include content. The non-digital pieces are a lot more difficult to measure success on, but that doesn't mean you should miss out on the opportunity to put good content in front of your customers at the right moment.
Example: Your Brand Identifies Content Opportunities
Sales materials. Use the themes we've identified for your sales materials and think about what your audience wants to remember about you after that trade show. Focus on the technology aspect and give them QR codes that link to resources which can help them, including…
Videos. Video can be expensive, but it doesn't have to be. Take Wistia's example and see what you can do with a little equipment and the folks in your office. Show your personality as you explore those content themes and how you can connect that audience with information that meets their needs. Showcase your web designer as they demonstrates how their desk setup helps them feel creative. Videotape your devs as they nerd out in their next meeting. Authentic content goes a long way toward building a connection between your brand and your audience. Use YouTube for your top-of-funnel videos to build brand awareness.
Triggered emails. It's great that you have these in place for when customers sign up. The information you're providing is a good start. You'll want to incorporate the new voice on these and also use them as an opportunity to point those new customers to an onsite resource to help them set up or migrate their storage.
Drip campaigns. To nurture those visitors who aren't quite ready to convert, set up a series of educational drip campaigns. The first one should be a series of stories about how different creatives have saved money by migrating to the cloud. The second should be a series highlighting online tools that creatives can use to improve their business, including everything from online banking to cloud storage.
Governance
Governance is all about the rules you set in place for content success. It's everything from the brand, voice, and style guidelines to the infrastructure on which you create and host your content. Governance includes planning your editorial calendar and measuring the success of your content after the fact. Governance also includes workflow, but that's a big enough topic that we're saving it for a section of its own.
Before getting crisp on governance, brands may have had a few people from all over the company creating whatever content was needed in whatever way they could get it done. That's a good way to fill gaps when you're getting started, but it's not a great way to build a strong brand image. As you grow into your rebrand, you're going to need to consider the following:
Brand guidelines
What font do you use? How big are headings anyway? Are there certain types of images or videos that communicate your new identity? Is there anything you don't want to see on the site? Anything that must be on every page?
Your designer gave you a start with the new site and we know there are some guidelines that accompany that redesign. Now is the time to formalize a few more. This document can start small and should be a living document that can shift over time and everyone has access to. Start by keeping a Google Doc that everyone can contribute to, then ask your content manager to settle any disputes and cement some of your decisions.
Style and voice guide
Changing your voice is a big deal and it will take some time to get it right. You already know that you want something more fun and creative. You also need to retain some of the trustworthiness because you're handling people's data. It's a challenging balance and you'll want to experiment. Also research sites your target audience visits and build a lexicon.
Use a similar process to developing those brand guidelines as you flesh out your grammar pet peeves and any jargon that should (and should not) be clarified. If you need an example, check out MailChimp's guidelines. Remember, this should also be a living document. And it's okay if the voice is a little different across channels.
Writing for the web
As part of the above guidelines, make sure that your content is easy to read online. People look for online text to be easily scannable so think about ways to break up text with shorter paragraphs, bullets, and illustrations.
Don't forget about SEO
Part of governance is making sure that details like metadata and title tags are taken care of. Keyword incorporation should be natural, with the focus on serving the best and most complete information to the reader, showcasing your brand's expertise and knowledge on the topic. A tool like Keyword Explorer can help you research the best keywords and topics to chase for your content.
Create an editorial calendar
You're ready to start prioritizing content tasks and getting into a cadence with publishing blog posts and new social pushes. To organize all of that, you're going to need an editorial calendar. Here's an example. This doc, too, should be adapted as you find what works for your team.
Reconsider your CMS
That proprietary CMS you had built almost a decade ago is causing more roadblocks than any other single thing right now. Consider migrating to something like WordPress that's more user-friendly. This will radically decrease the amount of time your team spends training on and troubleshooting your existing CMS.
Resources:
https://coschedule.com/content-marketing/content-strategy-template
https://neilpatel.com/blog/content-strategy-a-development-guide/

https://www.semrush.com/blog/content-marketing-strategy-guide/
https://moz.com/content-strategy-template
Content Strategy: What Is It & How to Develop One 2022
Step #1: Define Your Goals for Your Content Strategy
Great content is created for a specific purpose, and this purpose needs to be clearly defined. Ask yourself if you are creating content to boost brand awareness, generate leads, convert users, attract past customers, improve search ranking results, or something else altogether.
For instance, content might be of little use in converting users at the bottom of the sales funnel; however, it could be invaluable in bringing users onto your site in the first place, by boosting brand awareness and organic lead generation.
Different segments of the sales funnel warrant different types of content. So, you will need to decide what content is most appropriate for a person to receive at a given time. That way, you will have the right conversation with the right person at the right time.
HubSpot provides some useful information on the types of content that are needed in different parts of the sales funnel. The company divides the sales funnel into three key areas, and then lists the appropriate content asset types for each in the graphic below: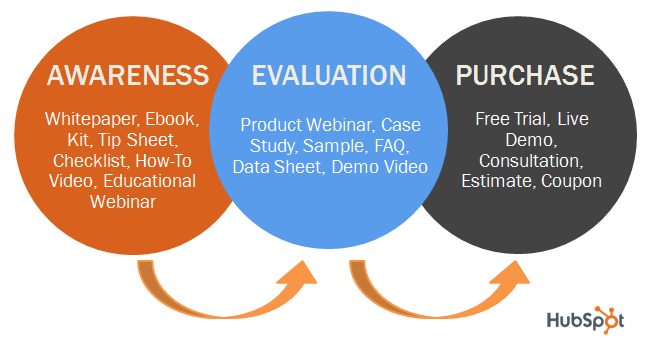 Step #2: Research Your Audience for Your Content Strategy
Valuable information can be gleaned by checking what types of sites your prospects are already visiting, which content they engage with, and which social media platforms they share content on.
This can be done by enabling Google Demographics and Interests for the types of sites prospects engage with and Google Analytics for the content they engage with, as well as by calculating which social media platforms your users will be on from their demographics.
Understanding what content works best and where can also be useful in the long run. Facebook has made it increasingly difficult for small business owners to increase their reach without paid adverts. However, video content seems to thrive on the platform, with video content "generating 1200% more shares than text and image-based content combined."
Understanding your audience, and how they act will help you narrow down your content strategy, without feeling like you need to have eggs in hundreds of baskets. Content creation on social media works well for B2C businesses, but not so much for B2B businesses.
Establishing Goals
Now you're ready to set some goals! What do you want people to do when they come to your site? For many the answer is simple; make a purchase. But there are other types of goals that can help your company get to the next level. They're all interchangeable and no matter what kind of website you have, you'll want to track these metrics. These may include:
Contact: When someone reaches out, you now have their contact information. This provides you an opportunity to speak directly to your consumers. Ask them how you're doing or how you can improve your processes.
Email Sign Ups: If someone visits your site and likes what they see, give them an opportunity to sign up to receive your email. They may not be ready to make a purchase today, but that doesn't mean they won't be in a month. It's likely that email is the only platform that will never become obsolete, so don't ignore it.
Downloads: Providing free, downloadable resources like whitepapers are a great way to add value to your brand. Additionally, they allow you to show off your expertise in a chosen field or topic.
Views: Sometimes you want to get the word out. Videos are a great way to track engagement levels on your website, and will keep people on your site longer.
Shares: Sometimes you're after that sweet social media love. Depending on your business, it could be the number one source for conversions.
Tracking goals allows you to gauge how much value your visitors place on your content. This is useful data that helps determine goals. It should also shape the types of content you create and where you promote it.
Planning is a key component of a successful content marketing strategy.
Types of Content
Different users digest information in different ways. This is why marketing for video games is vastly different than marketing for arthritis medication. The demographics interested in each are very different from one another. Understanding those differences informs the decisions behind each marketing campaign to make them more successful.
Company Blog
One of the most accessible ways to create engaging content that speaks to multiple audiences is by utilizing a blog. We've talked at length about the benefits of having a blog, but that's just because it really does work. A blog lets you easily create different messages tailored to different people. Nowadays most website platforms have blog functionality built in. It's likely that adding a blog to your existing site would be less expensive than you think. What's more, blog posts are easy to link to and easy to share. So, what's stopping you from using a blog to build an audience and engage with users?
Multimedia
Another way to create engaging content is by using multimedia. YouTube offers a free platform to post videos, gain followers and initiate a dialog with viewers. The obvious downside of video is the technical know-how it takes to shoot, edit and post an original video. The upside is that video offers nearly limitless potential to create viral content that resonates with users. A podcast is yet another way to add multimedia content to your website.
You can utilize a podcast to position your company as a thought leader while discussing topics that users find engaging. There are a variety of resources online offering tips and tricks on how to record your podcast. Social media and email newsletters offer excellent means to promote your efforts. If you have the skills—or can afford to hire someone who does—multimedia is a compelling way to tell your story and gain consumer confidence.
On-Page SEO
In addition to blog posts and multimedia, on-page SEO improvements to your website make sure its content is communicating as effectively as possible. On-page SEO ensures your site is speaking in a language that search engines understand. Proper optimization makes it easier for Google—and by association—your audience to find your content.
Smart, well-defined calls to action (or CTAs for short) give your users something to do once they reach your site. A contact form provides an easy way for them to initiate conversation. A newsletter signup allows you to build a list of engaged individuals. Typical CTAs include language such as "Apply Online", "Contact Us", "Get a Quote" and "Buy Now". Calls to action allow you to create goals, track engagement and inspire your users to act.
Resource:
https://neilpatel.com/blog/content-strategy-a-development-guide/