Display ads are placed on relevant third-party websites in the form of banner, image, and text ads. Display advertising is pretty much a blanket term that includes every visual ad placed on a website, however, it can be divided into three basic categories: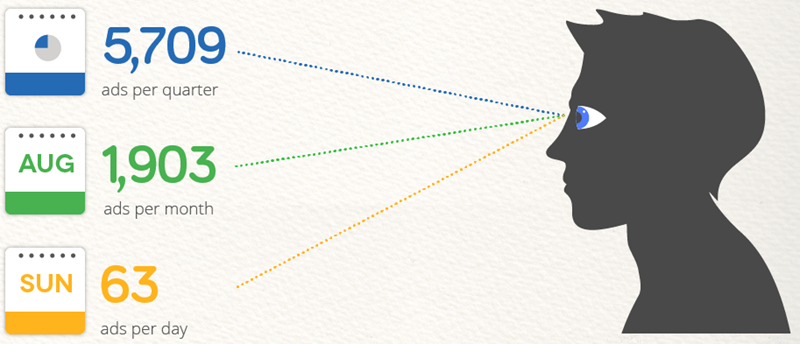 What Is Display Advertising? Definition, Targeting Process, Management, Network, Types, and Examples
With global spends on digital advertising expected to cross USD 333 billion this year, it is essential to understand display ads in detail. Scroll down to know how display ads capture people's attention, how they use targeting mechanisms, and what are the types, benefits, and examples of display ads.
Display ads are a lucrative method of advertising for marketers looking for ways to reach and acquire customers. They make generous use of visual media in the form of texts, images, or even videos to catch people's attention.
You can usually spot display ads in designated corners of webpages and social media platforms, and they are usually showcased in the form of a banner ad (graphic or text). All campaigns ranging from the ones using simple text to those with attractive videos can be grouped under display advertising.
Most successful display advertising campaigns use a clever combination of images, text, gifs, and videos to stand out on the internet and send their message across to the targeted audience. Marketers can play around with language, design, shapes, and sizes of banners to create engaging display ads.
Types of display ads
1. Remarketing ads
According to Accenture Interactive, 91% of consumers prefer to buy from brands that remember their interests and provide offers based on their needs. Retargeting ads do just that, and they're easy for brands to implement. Here's how they work.
2. Personalized ads
Google considers remarketing to be a subcategory of personalized advertising. Personalized ads target consumers based on demographic targeting and the interests they have shown online, that you can use to set a custom audience.
Affinity targeting shows your ads to consumers who have demonstrated an active interest in your market. These affinity groups can be relatively broad—like "car enthusiasts" or "movie lovers"—letting you reach large numbers of people.
Smaller custom affinity groups like "long-distance runners" and "orchid growers" let you get more specific about the interests you want to target. Bear in mind that when you use narrower groups, you'll reach smaller audiences.
Custom intent and in-market ads target consumers who are actively searching for products or services like yours. You'll reach fewer people than with either affinity or custom affinity targeting, but the people who do see your ad will be closer to making a purchase.
Similar audience ads target people who have interests or characteristics in common with your current visitors. To create lists of new but similar audiences, Google compares the profiles of people on your remarketing lists with those of other users, then identifies commonalities.
3. Contextually targeted ads
4. Site-placed ads
Section 4: Why are display ads essential for remarketing?
Remarketing or retargeting allows you to keep your brand in front of your potential customers after they have left your website without performing an action — persuading them to reconsider your offer when they need it.
Remarketing involves showing ads to prospects based on their behavior on your web pages in an attempt to guide them through your marketing funnel. The process is enabled by cookie-based pixels that track your prospects' internet browsing behavior after they abandon your website.
Remarketing display ads help you shine a light on your value proposition for your target audiences who have steered away from your website — persuading them to revisit your offer when they believe they need it.
1. Behavior: There are two types of behaviors a visitor can showcase when they're on your website – not Interested (the visitors spend less than a few seconds on your website, don't go to any other page on your site and immediately exit), and Interested (the visitors browse through the website content, maybe even click through to other pages like the resources page, pricing page, or the about us section). Serve remarketing ads to Interested visitors with high intent.
2. Time: Time segmentation involves taking care of three things. First, the time duration between the visitor's website visit and when you show them the first display ad. The frequency with which visitors sees ads. The time duration between the visitor's first visit to the website and the time when they stop seeing remarketing ads.
3. Existing customers: Show your display ads to customers who aren't that active on your platform; maybe the new feature update can convince them to become more active.
1:1 conversion ratio
Conversion ratio refers to the number of places to click on a webpage compared to the number of conversion goals presented on the page. A true post-click landing page is a standalone page, separated from your main website's navigation, the purpose of the page is to promote a single offer, so it should always maintain a 1:1 conversion ratio.
The only clickable link on an optimized post-click landing page is the CTA button. If your post-click landing page has other off-page navigation links you are essentially going against the very definition of a post-click landing page, which of course minimizes your chances of getting visitors to fulfill the conversion goal.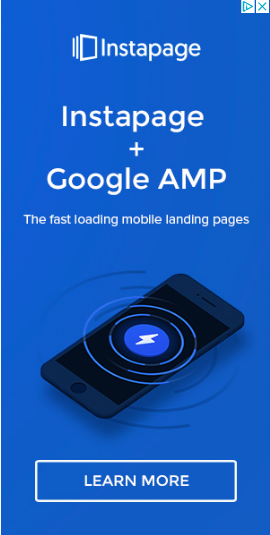 Display advertising allows you to use images and other rich media types to create ads that have the visual appeal to attract new customers and call back potential customers who have lost their way.
When you create optimized display ads and connect them to relevant post-click landing pages you increase the chances of not only getting an ad click but a CTA button click.
Create optimized post-click landing pages for your display ads today with Instapage. Sign-up for the Instapage 14-day free trial and use the industry's most sophisticated post-click landing page platform with advanced testing and analytics capabilities.
Sources:
https://www.toolbox.com/marketing/programmatic-advertising/articles/what-is-display-advertising/
https://mailchimp.com/marketing-glossary/display-ads/
https://instapage.com/blog/display-advertising
Display advertising
Georg Jensen's Head of Brand and Content, Kasper Sierslev, discovered that video was an effective tool for driving engagement. "…with video, we found that our campaigns performed six times better than static ads."

What Is Display Advertising in Digital Marketing?
Display advertising entails using text-based or visual ads on websites or social media networks to attract people to take action or simply raise brand awareness. The prices of these ads are most often calculated following a CPC model. That means you will be charged a specific amount whenever someone clicks on your ad.
Although display ads are most commonly used in programmatic advertising, brands also like to use them in their retargeting campaigns. That means they use display advertising platforms to target users who have previously left their websites without purchasing anything. That way, you entice them to come back and reconsider.
But despite their various uses, display ads remain particularly suitable for targeting potential customers still in the awareness stage of the marketing funnel. The reason is that the users seeing display ads aren't searching for specific products and services. If they were, they'd be using a search network. That means their search intent isn't transactional, but informational. Because of that, very few display ad impressions end up in a conversion.
What Types of Display Ads Are There?
Interstitial Ads — These ads are like the pop-up ads of old. An interstitial ad is an advertisement that appears before you can access a site's landing page. Most users dislike these ads because they prevent you from opening a website before closing the ad. Also, these types of display ads are most often used on mobile devices.
Rich Media — These are interactive ads that can engage users in different ways. For instance, rich media ads might be an interactive video, poll, a button, or similar.
Video Ads — Video advertising is all the rage in the digital marketing world nowadays because videos offer an interactive experience for the users and plenty of possibilities for advertisers. There are two most prominent video ad formats: instream and outstream video ads. The former appears in the shape of pre-, mid-, or post-roll ads on videos, whereas the latter usually manifest in the form of a video player appearing somewhere on a website. Here's how that looks:
Why should you use display advertising?
1. An important tool for brand awareness
When done right, display advertising is an essential element of any online strategy. Display advertising offers you the power to showcase your brand creatively across the internet and to thousands of potential customers.
2. Reach your audience like never before
With display advertising you're no longer restricted by a user's preferred social channel or an email provider. In fact, your brand can reach consumers across the internet wherever they might be looking for goods, services, news, and recommendations.
Indeed, Google Display Network alone can reach up to 92% of all internet users – everywhere. Whether you're using Google, or another demand side platform (DSP), with display advertising, you're likely to reach more consumers than almost any other online or offline format.
Plus, it gives you the chance to reach your potential customers across devices and formats. Using display advertising means your branding can be seen throughout a consumers day. From breakfast to midnight snack, from mobile to digital-out-of-home (DOOH).
3. Create relevant ads with personalised targeting
There are so many ways you can approach targeting with display advertising. The most commonly used is contextual targeting. In the same way as Google Search, you can specify keywords and search terms for online publications you wish your display ads to appear on.
There is also the option to reach desired consumers using demographic targeting. With display advertising, you can also target users based on their interests, geographic location, language, demographics as well as certain publication topics i.e. sports or entertainment magazines.
4. Increase ROI with retargeting
Retargeted ads perform considerably better than standard display ads. Why? Because you're already targeting users that have a previous interest in your product! In fact, the click-through-rate for retargeting ads is typically 0.7% compared to 0.07% at the top of funnel.
For campaigns that are aimed more towards conversion, retargeting users with display advertising can be a great way of attracting consumers back to your site. For example, you can set up a script-tag on your checkout pages and retarget with relevant products to reduce card-abandonment.
5. Be creative
Last but not least, display advertising allows you to be creative. With the advances in display advertising technology, your ads can have interactive elements, video, countdowns, live product feeds… you name it!
Why is HTML5 the preferred display advertising format?
Once, there was also Flash. It offered flexibility in terms of design and interactivity. However, security vulnerabilities, and the fact it required a browser plugin, saw big tech industry players drop support for it.
Finally, in June 2016 Google stopped supporting Flash banner ads and it ceased to be a valid format. Instead another format, HTML5, was crowned the number one advertising format for display advertising – with static ads remaining as the dull older brother.
What is a HTML5 banner ad?
Put simply, a HTML5 banner is an ad that uses the same coding language used to design and control webpages. It applies the latest update of Hypertext Markup Language. HTML5 banners are therefore coded and updatable – and interactive – unlike static banners.
For example, within a HTML5 banner ad, text, images, video, and JavaScript are easily editable, much in the same way as any webpage. Thus basic HTML5 banner ads can be coded to automatically optimise to look perfect for every device and website.
They are also ideal for publishing to multiple ad networks, and offer advanced display marketers the ability to track clicks, as well as upload live data. Thanks to its superiority as a coding language, HTML5 is the default option for creating and controlling display campaigns.
Display Advertising vs Search Advertising
Search advertising is an advertisement that appears on the search engine results page (SERP) after a user types in a corresponding keyword. This ad reaches users with the purchase intent since they look for a product that a brand advertises.
Display advertising means placing ads on sites relevant to your product and target audience. This kind of ad is based on a push approach, while search ads — on pull one. It means that only users looking for a particular product come across search ads, while display ads are shown based on different targeting criteria.
Choosing the best ad to reach your goal, consider your search volume, a need to increase brand awareness, budget, and your type of business. Firstly, you need to know if the audience is familiar with your brand and product. For this purpose, you can check the search volume for the necessary keyword with tools like Ahrefs. If the volume is low, you can choose display advertising. If the audience is familiar with your brand, invest in search ads.
Secondly, decide whether you need to improve your brand awareness. If you're an established brand and your outreach is wide, make use of search ads. This way, you will sell to customers who already know you and your product.
Thirdly, think of your budget. Building brand awareness with the help of display advertising is an expensive and long-term strategy that will bring you lower conversions than search ads could. If your business is on a tight budget, you'd better invest in search ads because they will bring you more money.
The last important factor is your type of business. If you provide local products and services, choose search ads. If a person has an acute toothache, lost their apartment keys, or their pet got sick, they will look for immediate solutions on Google and choose a company ranking high on SERP.
Types of Display Advertising
Interactive and video display ads are becoming more and more popular since they help attract user attention and can be more engaging than traditional ads. Let's check out several examples of display ads.
Tokionomo promotes its product in the New York Times using an interactive ad to draw the attention of users. The brand offers a shelf-advertising robot that ensures a brand new type of brand communication.
Congrats, now you know the pros and cons of display ads, their types, the way they differ from search ads and have some examples at hand. So, choose the best type for your business and increase your brand awareness and sales
Sources:
https://www.brid.tv/the-power-of-display-advertising-and-why-you-should-use-it/
https://www.bannerflow.com/resources/ultimate-guides/display-advertising/
https://sendpulse.com/support/glossary/display-advertising
Display advertising
Video ads: These advertisements use videos or animations to connect with potential customers on a more personal level. Video ads are one of the most effective forms of display advertisements and great for generating brand awareness.
Examples of Excellent Display Ads, and Why They Work
To help you create an excellent display advertising campaign of your own, let's look at these real-life examples. Below, you'll find eight display ads that have worked in the past. We'll discuss why they've enjoyed success.
Spotify
This is a promotion for Spotify Premium. If you use the free version, you know all too well that the ads can be intrusive to the in-app experience; this ad works because it gets to the point. What they are directly and indirectly saying is, "You can wave goodbye to ads and try the full version of Spotify for 30 days, after which you probably won't want to return to the free edition."
What makes this ad work? It addresses a pain point that customers using the free service all have, and offers an immediate, free (for a time) solution. The text is clear and not cluttered, and the green-means-go action button stands out. Single or two-tone color schemes with vibrant tones are also very effective statistically as they tend to pop out to the user on a desktop or mobile device.
MailChimp
Why does this particular ad campaign work? Well, there are several reasons. Rhyming is a powerful way to make your message stick, and each ad is equal parts funny and absurd—inviting connection through humor. Moreover, the colors are simple and appealing.
Klarna
This pay-later service originated in Stockholm, Sweden—where it still has its headquarters. And in the ad you see above, it has dug deep into its Scandinavian roots. Klarna isn't actually Swedish for "smoother shopping", so it's added a bit of humor for users, as you can see with the two characters that pay homage aesthetically to playful Swedish stereotypes.
HP is one of the largest tech companies in the world and is perhaps best known for its printers. How do you make printing seem a little more interesting? Create ads that are fun to view and read, of course.
Adobe
Adobe is one of the world's biggest software companies. Adobe's solutions primarily focus on helping creatives achieve their goals. Photographers, designers, and podcasters use several tools (e.g., Lightroom, InDesign, and Audition).
The ad is successful because it sums everything up in four words; you take the picture, before bringing it to life with one of Adobe's editing tools. The company has also used complimenting colors, making the ad more eye-catching.
Samsung
Samsung is a global manufacturer of various consumer items, including smartphones and tablets. It's one of the fiercest competitors to Apple. As such, the company needs to ensure that its advertising game is on point.
Upon releasing the Galaxy S6 tablet, Samsung produced a campaign with a simple message: you can create work regardless of where you are. The ad appealed to people who might need to create quick prototypes for clients on the go, along with those either traveling or working remotely.
Huawei
The ad encourages people to be present with their loved ones aside, but it's clever because you can still see the main product that Huawei is trying to sell. Moreover, the candy cane adds to the Christmas theme – as do the shades of red.
Are There Other Forms of Display Ads?
Banner Ads: One of the oldest and traditional forms of advertising, banner ads usually appear at the top of websites in a "banner" format. Here's an example from Amazon Prime:
Interstitial Ads: These ads appear as web pages that are served to users before they are directed to the original page they requested. In the example below, you can see how this appears before accessing a web page or app on a mobile device:
Rich Media: These ads include interactive elements, such as video, audio and clickable elements. The example below shows an ad from DemandGen that includes an opt-in form right within the ad itself:
Video Ads: The YouTube advertising platform, as well as social networks like Instagram and Facebook, have opened a whole new avenue for marketers. Video ads allow you to reach your audience and connect with them on a personal level, and are well worth investing in.
On top of these formats, native advertising is an effective strategy to deliver great creative and get your message in front of an engaged audience. This approach allows you to produce content that your audience loves on their favourite channels. Check out our complete guide to native advertising to learn more.
What Are The Benefits and Downsides to Display Advertising?
As is the case with all marketing activities, display campaigns can come with their own pros and cons. Before we get into some actionable and in-depth advice on how to apply display ads to your business, let's look at their benefits and downsides.
Diversity: Display ads come in many shapes and sizes. And as you've seen above, they can be presented in a number of formats, too. This means you can choose a style and advertising format that will help you achieve your goals.
Reach: Thanks for the Google Display Network (GDN), you can access millions of sites straight from your Google Ads account.
Targeting: Because of GDN's extensive reach, you can also target the right audience by placing your ads on the right websites. This includes demographic and geo-targeting, along with specific interests of your target audience.
Measurable: Clicks, impressions and conversions can all be tracked from Google Ads, as well as Google Analytics for more granular performance and engagement tracking.
Banner Blindness: Because of the prolific nature of display ads, many users have come to ignore them completely. This means a lower click-through rate. However, this can be circumvented using remarketing and rich media ads. You'll learn all about remarketing later in this guide.
Ad Blockers: Along with this, ad blocker technology has risen in popularity over the last few years. Many brands and media outlets have tried to circumvent this, however, by giving users the option of allowing ads or purchasing a subscription:
Sources:
https://www.marinsoftware.com/blog/the-best-display-ads-of-2022-and-why-they-work
https://www.acquisio.com/blog/agency/what-are-display-ads-5-steps-to-effective-visual-advertising/
https://www.indeed.com/career-advice/career-development/display-advertising-definition